When a carrier completes a shipment in good faith, they expect brokers to pay them the full amount when they said they were going to. Unfortunately, in transportation, it's not uncommon for there to be payment issues between carriers and brokers.
Why Don't Brokers Pay Invoices?
There are several reasons brokers don't always pay up. It could be a legitimate issue with the freight: damaged cargo, for example.
Sometimes there are paperwork issues that need to be fixed before a broker pays.
And worse, sometimes brokers go out of business and carriers are left waiting for their money, sometimes pennies on the dollar, of what they're owed.
What Can a Carrier Do About Non-Payment?
First, if the broker has a legitimate complaint, communicate with them right away. Often, a quick phone call can clear up the confusion, and you can begin to work on a solution.
Even if the broker is still unwilling to pay the invoice after your talk, you'll have the information you need to determine your next steps.
Things get a little stickier when the broker refuses to pay for other reasons.
Dealing with an Unreputable or Insolvent Broker
If the broker has gone out of business, you will likely never see the full amount you're owed. You may have a glimmer of hope if the broker files for bankruptcy. The broker could eventually pay you, at least partially, when they liquidate their assets. Unfortunately, this could literally take years, and it's far from a guarantee, and you're probably not the only one standing in line waiting for your money.
Brokers who ignore your invoices and calls may have no intention of paying, at least not quickly. Depending on the amount of the invoice, you may need to sue them or sell the invoice to a collection agency to collect what you can.
Filing a Claim Against a Broker Bond
Another option is to file a claim against a freight broker surety bond through the Department of Transportation (DOT). Freight brokers need surety bonds to comply with DOT requirements aimed at preventing fraud and improving safety. They serve as a kind of insurance meant to protect you in situations like non-payment.
Bad news: filing on a broker's bond is not simple, and it can take many months to work your way through the process. There's no guarantee you'll receive payment even then.
Can Carriers Do Anything to Avoid Non-Payment?
Non-payment situations are a hassle that threatens your livelihood. Your best option for dealing with them is by doing your best to avoid them in the first place. The good news is that there are a few things you can do to increase your chances of being paid.
Start on the Same Page
It's crucial to hammer out details with the broker from the start, in writing. Communicate constantly and always be up front about accessorials and other charges that may crop up. Be sure to document everything and save your paperwork. A simple folder can help you keep track of your load paperwork and make the payment process a little bit easier.
Don't forget, that your phone can be your best friend for dealing with all the paperwork. Many brokers don't require the original documents, so you can use a 3rd party app to scan your documents and have them with you wherever you go. It also makes sending in load paperwork easier.
As the saying goes, "If it's not in writing, it didn't happen." Even if you're working with a trustworthy broker, it's a good business practice to put everything in writing. That way, both parties know what to expect later. If it comes to the point where you need to take legal action, you'll be happy you had your documentation.
Maintain good communication along the way so you can quickly get in touch to clear up issues. This can help you avoid a delay in payment because the broker will know what to expect on the invoice.
Eliminating Non-Payment Issues
So what's the best way to get paid on your loads? Be as proactive as you can before accepting the load.
One of the reasons so many carriers use factoring companies is to handle the broker payment process.
In a factoring agreement, the factoring company advances most of the money owed to the carrier. When the broker pays the invoice, the factoring company pays the carrier the balance after deducting a fee for their services.
If a broker doesn't pay or is slow to pay, the factoring company works with you and your customer to collect the payment.
A factoring company can help you minimize non-payment situations by:
Checking the credit and payment history of a broker before you enter an agreement. Triumph provides 24/7 access to its online broker credit check portal to give carriers an instant answer on a new customer or one you haven't worked with in a while.
Offering additional protection with non-recourse factoring arrangements. A non-recourse contract protects you if a broker goes out of business and declares bankruptcy. In that case, you aren't on the hook to pay back the advance from your factoring company.
Saving you time and energy by working directly with the broker to collect payment
Providing you with funds up front while working with you to resolve issues with broker payments
Stop Wasting Time Chasing Payments
If slow payments from brokers are hurting your cash flow, working with a factoring company like Triumph Business Capital can help you break the cycle of chasing broker payments.
And because we'll pay you up front for your invoices — as quickly as the same day — you'll always know where your money is.
Learn more about our freight factoring program and get started today.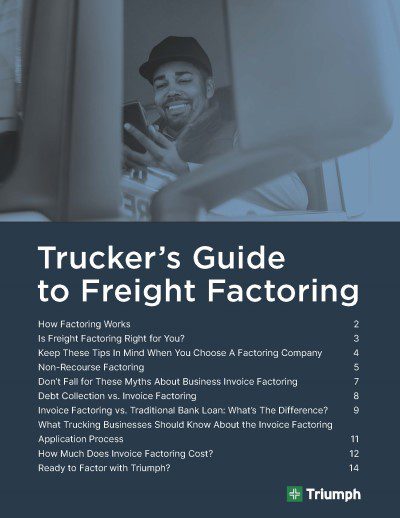 Trucker's Guide to Freight Factoring
Our Trucker's Guide to Freight Factoring explains what exactly invoice factoring is, how it works, and if it's a right fit for your trucking company.